I
The tradition and sound that originally made the Duprees such a well-loved and successful group has echoed through time for more than 60 years. Tommy Petillo, Jimmy Spinelli and Shawn Stevens active today clearly show their dedication and passion for the type of music that started on a New Jersey street corner and grew to something both classic and ultimately timeless.
Jimmy joined The Duprees lineup in 1989 and is a proud evolution from the original members. The consummate professional Jimmy brings an energetic presence to the stage that is unsurpassed with his own brand of showmanship, vocal style and dance thrilling audiances where ever he performs. A Former member of "Vito & The Salutaions" Jimmy has been entertaining audiances all his life..
Since 1978 when the original members selected him as there lead singer Tommy's dynamic vocals have embodied the heart, soul and true essence of voice carrying a tradition of classic and timeless love songs by The DuPrees.. He has with great pride continued the legacy of the Duprees songbook for more than 45 years of stage performances.
Shawn's professional career began as a child actor, appearing in dozens of stage musicals, television productions and feature film projects, receiving accolades and awards for his efforts. He has performed with the legendary Doo Wop groups "The Diamonds" and, most recently, "The Vogues". Now in 2023, a member of The Duprees, Shawn says "it doesn't get any better than this!
The Duprees have entertained audiences who love their unique and romantic sound for more than six decades. From their doo-wop and rock and roll groups start in Jersey City New Jersey, they grew quickly to become a sensation all across the country and around the world. Although members have changed throughout the years, the singing group stayed in touch with their east coast roots and dedication to bringing favorite classics in an updated style. The singing group still thrills audiences with their smooth harmonies and romantic sound as they revitalize their top hits for new generations. Their dedication to preserving the sound, sharing it with more people, and spreading appreciation for music everywhere continues with Tommy Petillo, Jimmy Spinelli and Shawn Stevens who are todays Duprees for more than 40 consecutive years of stage performances.
2023 PERFORMANCE SCHEDULE dates




december 8th (Friday) --- dinner & "holiday christmas show"

---

lorenzo's cabaret, 1100 south ave, staten island, ny. tickets -

https://lorenzosdining.com

RESERVATIONS-718-477-2400




december 9th (saturday) --- holiday doo wop, Bergen pac, 30 north van brunt street, englewood, new jersey

http://www.bergenpac.org




december "new years eve" (sunday) ---- only 200 tickets to be sold for an intimate evening of dinner, dancing & dine with the duprees at "michael's riverside resturant & bar" lynhurst, new jersey....

reserve your seat now! -

call marina -973-477-9534






2024 PERFORMANCE SCHEDULE dates






february 3rd (saturday) - parker playhouse, fort lauderdale, fl. 954-462-0223

www.parkerplayhouse.com




february 9th (friday) ---rivers casino, phila, pa. -s.phila. lions club, dinner & dancing, 6pm




february 14th (wednesday) ----north shore tower, queens, ny




february 25th (sunday)-alabama theatre, myrtle beach, s. carolina. 800-342-2262

www.alabama-theatre.com




March 10th (sunday) ---tba




april 13th (saturday) --- tba




april 19th (friday) - a doo wop extravaganza, shea center, wayne, nj, 973-720-2371, tickets -

https://tickets.wpunj.edu/TheatreManager/1/online?event=0




april 20th (saturday) --- the strand theater, lakewood, nj, tel-732-367-7789-

www.strand.org




MAY 17TH (FRIDAY) --- TBA




may 21st (tuesday) --- "taste of the state charity event', park chateau, east brunswick, nj




june 22nd (saturday) ---tba




JUNE 23RD (SUNDAY) ---TBA




july-




august 22nd ((thursday) ---tba




SEPTEMBER 7TH (SATURDAY) ---TBA




september 21st (saturday) ---the kirby center, wilkes barry, pa




september 28th ( saturday) ---tba




october 5th, (saturday) ---tba




october 13th (sunday) ---- Broadway theatre, pitman, nj 2pm,

https://www.thebroadwaytheatre.org/




october 27th, (sunday) ----malt shop memories cruise, st marten & tortola,

https://maltshopcruise.com




november 9th (saturday) ----

Smyrna Opera House, located at 7 W. South St. Smyrna, DElaware

tickets -

https://www.smyrnaoperahouse.org

november 23rd ( Saturday) ---- tba




december 6th & 7th (Friday & Saturday) --- tba
The DuPrees are one of America's best loved singing groups and are known the world over for recording million selling hits of the most beautiful love songs ever written. The Duprees once again, with their unmistakable sound and style, give new life to a collection of great songs of our time. I know the songs on this CD will capture and inspire your hearts and leave you with a lifetime of memories. Through the years it has been my great pleasure to know The Duprees. To put it simply, they're a class act; true custodians of great music. My friends Ben E. King, Jerry Butler, Little Richard, and I sincerely wish Tommy, Phil, Jimmy and Tony Much more success.

We all want to thank you, our great fans. You have honored us with your tremendous support throughout the years and because of you our journey still continues............Sincerly Loyd Price, Rock & Roll Hall of Fame.




Since 1980, today's Duprees (Tommy Petillo, Jimmy Spinelli, have proudly evolved from the original members: Michael Arnone, John Salvato, Joey "Vann" Canzano, Joseph Santollo, Michael Kelly and Tom Bialoglow. They gave us those memories that will last a lifetime. As always we recognize, celebrate and honor the music that captured everyone's hearts a half century ago.

So while we salute and preserve the past, the next generation of Music Historians will document The Duprees continuing musical ride into the future. This collection reflects that evolution; With newly recorded versions of The Duprees greatest hits and all new songs that showcase the versatility and talent of "The Duprees" today. We are truly honored to be known as New Jersey's ambassadors of love songs and America's favorite vocal group. With the help of our musical director Mr Mark Baron we will go on recording many more beautiful songs to serenade the greatest fans in the world. These are the songs that will never die, the romantic moods and deep meanings that resonate through the hearts and minds of anyone who has ever fallen in love. When the lyrics and melodies of these old songs are brought to life by the smooth vocals of Tommy Petillo, Jimmy Spinelli and former members Phil Granito and Tony Testa no one can resist the emotion that sparks memories and the desire to sing along......Sincerley The DuPrees.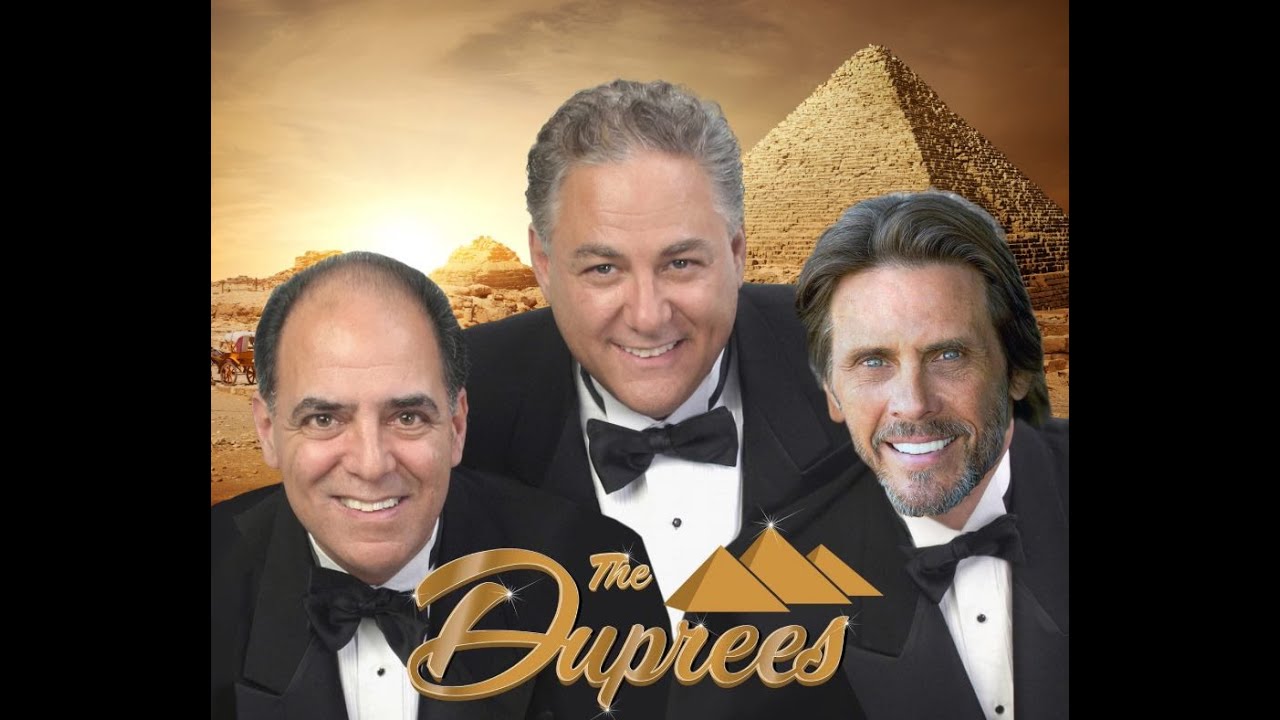 DUPREES cd RECORDINGS 2002 TO 2023
DUPREES ALBUMN RECORDINGS 1961 TO 2001
The Duprees Yesterday & Today Photo Albumn 1961 to 2023